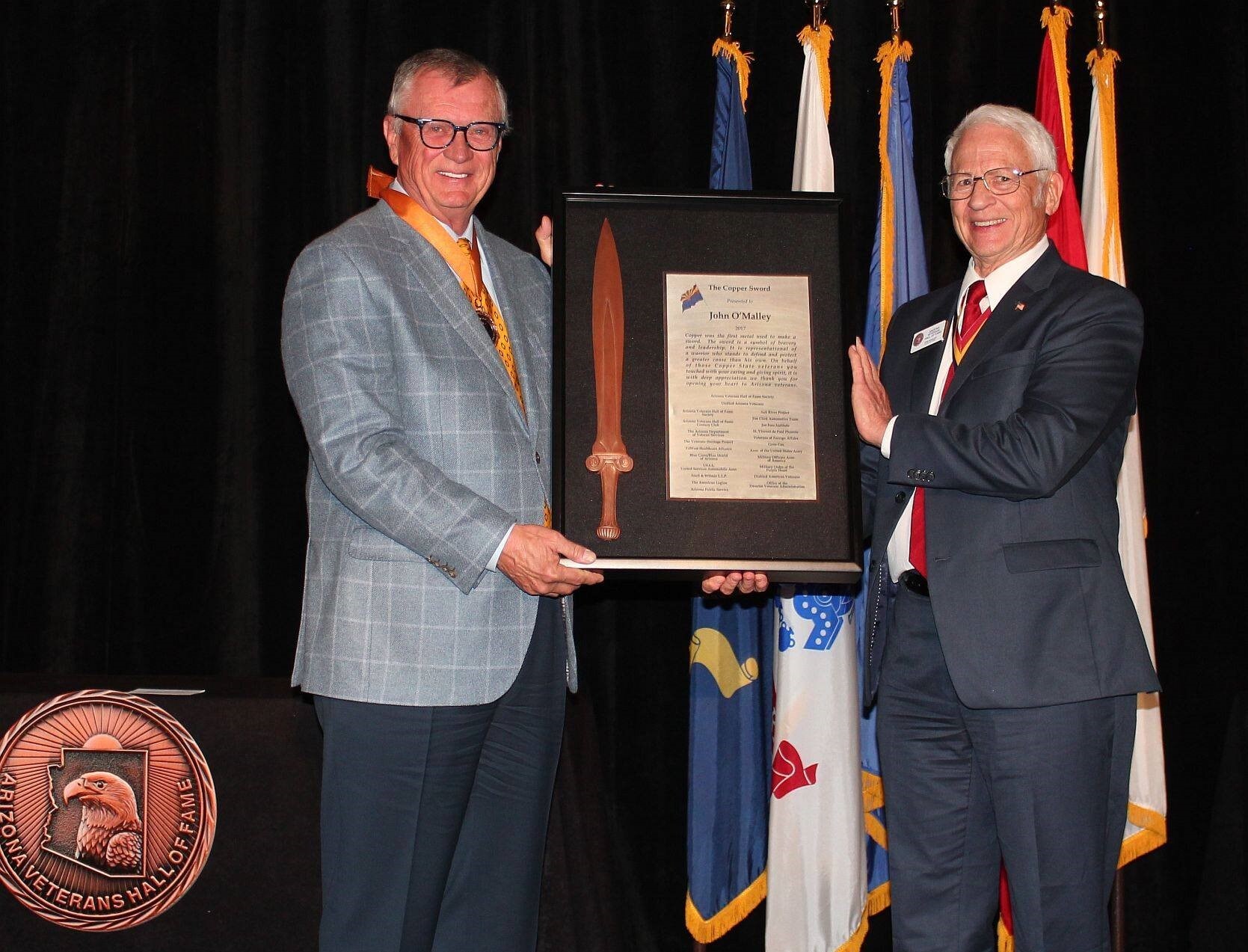 ​John O'Malley, the general manager of Camelback Toyota for over 20 years, is not only a proven leader at our dealership but is also an important pillar of the Phoenix community. Due to his dedication to service, the Arizona Veterans Hall of Fame Society awarded him the prestigious Copper Sword Award at their 11th Annual Patriotic Gala on April 8, 2017.
The Patriotic Gala is a celebration of military veterans and business, civic and philanthropic leaders from around Arizona. At this gala, the Arizona Veterans Hall of Fame hands out four awards, all of which utilize the word 'Copper' to honor Arizona, the Copper State. The four awards are the Copper Sword, the Copper Eagle, the Copper Shield and the Copper Lamp. Proceeds raised during the event go toward scholarships and veterans' projects, both in Arizona and around the country.
Mr. O'Malley was presented with the Copper Sword at this year's event. The Copper Sword is awarded to citizens who have not served in the military but have demonstrated an unwavering dedication to their community, as well as philanthropy and support for veterans. In other words, sword bearers are exceptional leaders.
The Arizona Veterans Hall of Fame Society granted this honor to Mr. O'Malley as he has demonstrated that he is a true American Patriot. He has been a major benefactor to Arizona veterans and their families, and has been a key player in securing donations totaling more than $175,000 for veterans' non-profits such as the MANA House for Homeless Male Veterans, Mary Ellen's Place for Homeless Female Veterans, Wounded Warriors and the Marine Corps Old Breed Detachment #767. He is also the President of the Valley Wide Toyota Dealer Association, which also sponsors and donates to several local veterans organizations.
This incredible contribution to Valley veterans made him the perfect recipient of the Copper Sword Award. All of us at Camelback Toyota are proud to work with a man so dedicated to the community, and we all hope to put forth the same commitment to service that Mr. O'Malley exhibits every day.
To learn more about the Arizona Veterans Hall of Fame, the Patriotic Gala and how you can support Valley veterans, visit the organization's website.