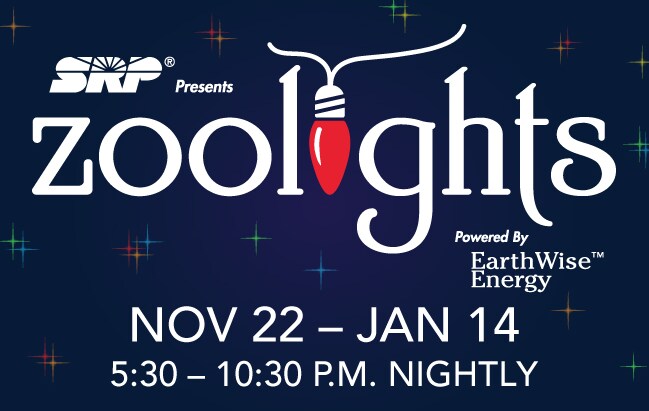 ?It may not snow here in the Valley, but we sure do know how to make it glow! One of the biggest and brightest light displays of the season is located right around the corner at the Phoenix Zoo. Now in its 26th year, ZooLights will be running from Nov. 22, 2017 to Jan. 14, 2018, giving you plenty of time to make your season bright.
From 5:30 to 10:30 p.m. each night, over three million colorful bulbs light up the zoo, transforming the desert landscape into a dazzling winter wonderland. From 3-D animal shapes and moving light displays to lakeside music shows and a nightly snowfall, there's holiday magic waiting at every turn. Additionally, the zoo has a three-story-high tree that is sure to make the perfect backdrop for your Christmas card!
As you're strolling through the displays, make sure you stop by and say a quick hello to Santa. He's set up a mini North Pole here in the zoo and would love to hear what's on your wish list this year. His elves will also be snapping photos to commemorate the experience.
Tickets to Zoolights are $19.95 for general admission, although value tickets will be available on select dates. Purchasing your tickets online will also get you an additional $2 discount.
For more information or to secure your spot, visit the Phoenix Zoo online now.