Each year, Camelback Toyota has an awesome opportunity to help the community, and each year, it's met with the same enthusiasm to do so. Two of the exceptional organizations that Camelback Toyota is honored to assist are Mary Ellen's Place and Veterans First. Christmas time can be difficult for families who are struggling and both of these organizations have a commitment to make a difference during this time.
Helping Children Smile During the Holidays
Continuing with what has now become a tradition, Camelback Toyota sets up a "giving tree" to help the children of families, who, through no fault of their own, would otherwise have very little on Christmas morning, and in some cases, nothing at all. The "giving tree" has 100 gift tags to select from, and the Camelback staff is always eager to step up and make sure the tags are available when clients come into the showroom. Many of those clients will take the tags with them and bring back wonderful gifts so that the children have something to smile about on Christmas day. It's incredible how something so seemingly small to an adult means everything to a child, and a gift on Christmas reminds them how special they are. Every child deserves that Christmas morning feeling!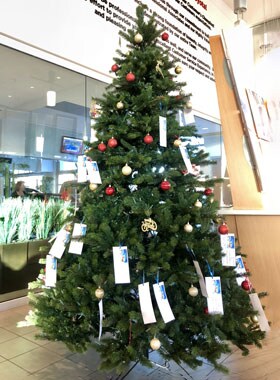 The parents need help all year, but this time of the year their struggle is also met with discouragement, due to the lack of being able to provide gifts to their children. Many of them are single moms or single dads; however, some are even grandparents who have willingly decided to take care of their grandchildren. The sacrifice to the country can take a toll on families, and oftentimes, Veterans are struggling just to put food on the table and pay their rent; therefore, gifts on Christmas would be impossible.
Supporting Our Families Throughout the Year
Along with the contributions received from clients on a monthly basis, Camelback Toyota supports programs, such as the Easter Basket, Beauty Bash, Back Pack, and Heal Her Art. It is an understatement to say that the support from clients is a major reason why the dealership has been able to meet the needs of so many. In 2017, Camelback Toyota provided 35 Easter Baskets to children, and in 2018, there were 75 provided. In 2017, Camelback Toyota provided 49 backpacks to children in need, and in 2018, there have been 105 backpacks provided, to date.
The Beauty Bash program allowed the dealership an opportunity to provide 81 Veteran women, who have children, with a well-deserved day of pampering and childcare. The number is expected to grow to 125 before the end of the year!
The Heal Her Art program for Veteran women with children is special because it has an emotional connection, and Camelback Toyota has played an important role in providing three months of sessions for children to paint any woman in their family while she paints the other side of the canvas, which ultimately becomes one painting. The program also provides professional two and a half hour sessions for the women to paint a blank canvas any way they choose, and it continues to receive great feedback and provides a way to uplift the spirits of Veteran women!
Camelback Toyota continues to strive to provide help throughout the community. The Hand Up program provides support to Veterans for rent payments, utilities, autos, groceries, and even medical support when a person is not qualified for a VA program.
It would be our pleasure to provide more information about any of the programs that Camelback Toyota is humbled to be associated with and let you know how you can help! At a time when Veteran families are hurting more than ever, we welcome your input for our community. Everyone can make a difference in a special way. Contact us or feel free to just stop by!