Your vehicle's tires are similar to a pair of shoes--they're in great shape when they're new, but they inevitably wear over time. However, depending on the quality and how they're cared for, tires can have a long life span.
The Ins and Outs of Tire Rotations
One of the most common questions our Toyota service technicians get is "are tire rotations really that important?" Of course, the answer is always yes! Because of the way power is distributed to the wheels during driving, each axle bears a different burden. For example, front-wheel drive vehicles put more force on the front wheels than the rear wheels, which can cause them to lose tread at a faster rate if not rotated!
Routine tire rotations are one of the most essential maintenance items, as they make certain that all four tires are wearing evenly. In turn, even tire wear ensures that your vehicle maintains good traction and safeguards you from premature tire replacement.
Wondering when to rotate tires? Generally, we suggest every six months or 6,000 miles, but it can differ depending on vehicle's make and model. Be sure to check with your Toyota Owner's Manual for the recommended service intervals!
Do I Also Need a Tire Balance or Wheel Alignment?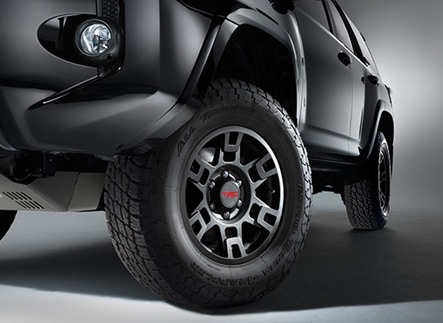 The process behind Phoenix tire balances can be confusing, but balancing essentially means that each tire has been calibrated to have the right amount of weight distribution. In turn, this helps your vehicle travel the road smoothly and safely. Unbalanced tires can cause an uncomfortable ride experience, as well as damage to the tires or suspension.
It's important to make sure that after a rotation, your tires and wheels are balanced accordingly. If you experience vibration either in the seat and floors or the steering wheel when driving, it may mean your tires need to be rebalanced sooner.
If you are experiencing problems like vibration or vehicle pulling, it could also mean that your vehicle needs a wheel alignment in Phoenix. Be sure to schedule an appointment online with one of our certified Toyota technicians to have this issue looked at in a timely manner.
How to Tell If Your Tires Need to Be Replaced
Even if you have fairly new Toyota tires, it's important to inspect them every once and a while to ensure they look healthy and are wearing properly. However, if your tires are starting to exhibit some of these signs, it may be time for them to retire:
Loss of tread or "balding"
Bulges or blisters on the sidewalls
Cracks or cuts in the sidewalls
Continual pressure loss
If you are experiencing any of these issues with your tires, do not wait to replace them! Damaged or worn tires can lead to loss of stopping power, hydroplaning or even blowouts.
About Our Camelback Road Tire Shop
Whenever you need to service or replace your tires, pay our Toyota service center in Phoenix a visit! We're fully equipped to handle every aspect of tire maintenance, from a simple tire air refill to tire rotation and balancing. Plus, if you're in need of a tire replacement, we stock a variety of high-quality brands, including OEM Toyota tires.
On top of that, we offer a variety of tire service specials to help you save during your next appointment, so be sure to give them a look.