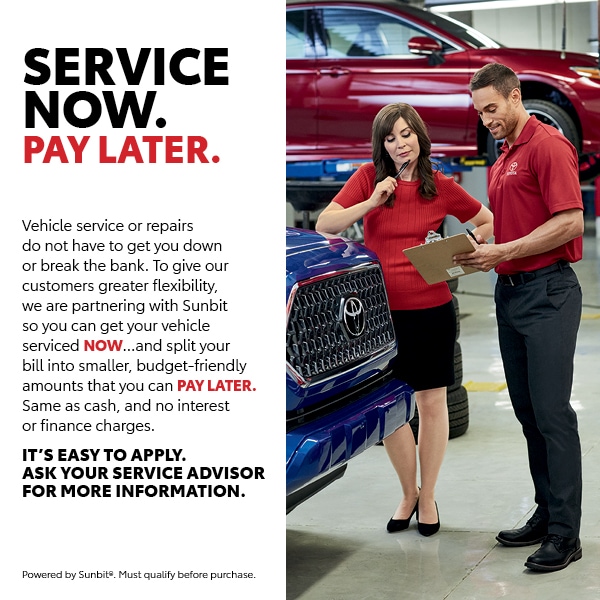 We are sometimes faced with drivers who need their vehicle serviced but are cash-strapped because of bills or just everyday life. While they may be able to use credit, they may not want to max out their cards by getting their car serviced. 
No matter what the case may be, Camelback Toyota has partnered up with Sunbit Service Financing to overcome these auto repair financial roadblocks. We know that you love your vehicle and that you need to keep it rolling smoothly. This critical need can put you in some stressful situations when creditors don't understand your needs and are unwilling to provide a loan or high credit line. 
This is where a specialist can help. Sunbit Service Financing is dedicated to providing auto repair loans and maintains a good working relationship with our dealership. They know that our factory-trained technicians will perform the quality of work that you deserve and, ultimately, solve your problems. This ensures that you won't be scrapping that car and defaulting on your loan. 
Our state-of-the-art automotive service department provides you with the type of quality assurances that creditors need to feel secure with a loan. They can fix brakes, transmissions, engines, body module components, and everything under the sun related to the operation of your auto. This provides a key advantage when you are seeking repair money. Instead of pawning items or taking one of those predatory cash advance loans, you can get a fair deal with a reputable lender. 
Lenders may be apprehensive when you have your vehicle repaired elsewhere, or when they are just handing out cash. When lenders see that you have a vehicle and that you are obtaining proper maintenance and repairs, you look far more responsible. It is easier for them to open their wallets and write a check.
The application process takes just a few minutes. Simply stop by at our dealership at 1550 East Camelback Road and see if you qualify. In most cases, if you have a job, your income can be counted as credit. Fixing your car is the only way to move forward with life. Apply for financing today!