Why are my brakes making that noise? How do I know if I need a brake inspection? For the answers to these questions and others, click play on our video about brake service in Phoenix.
Bringing your Toyota in for regular brake checks is absolutely vital to its overall health and safety. Routine inspections make it easier to detect worn brake pads, damaged rotors and other problems in advance. For this reason, we highly recommend following the maintenance schedule in your Toyota owner's manual so that you always bring in your car in at the right time.
Continue reading our full brake service guide below to discover other reasons to bring your car into our brake repair shop in Phoenix.
Why Do I Need Regular Brake Service?
Going too long between brake checks can cause a host of problems that could seriously affect how safe your car is on the road. In fact, many small problems can go unnoticed until serious damage is done to your car, which can cost a lot more than a simple service visit.
What Goes Into a Brake Inspection?
A big part of your brake service is just confirming that all the various brake parts are working properly. From your brake pads and rotors to your calipers and brake hose, our technicians will thoroughly inspect each part to ensure that they are all functioning the way they should.
And if they discover a problem? Well, then our technicians will fix it on the spot, replacing ineffective brake pads, resurfacing rotors and so on.
How Can I Tell If I Already Have a Problem?
Brakes are not too shy about letting drivers know if there is a big problem. There are a few main signs to look out for, including:
A loud grinding or screeching noise when pressing the brake pedal
A slowing of your stopping time
A strong pulling of the car when braking
A shaking of your steering wheel
If you experience any of these things, it's best to bring your car in immediately. Not sure whether your brakes are bad or you're just hearing things? We always recommend bringing in your car in just to be safe. Our service techs will be happy to check your car out to make sure it's running the way it should!
Schedule an appointment at Camelback Toyota today for your next brake service visit. Also, be sure to head over to our coupon page to find savings on a variety of maintenance services!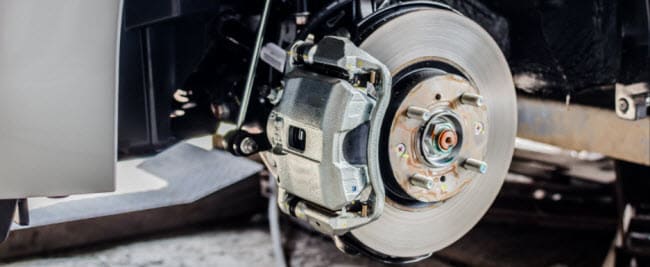 Service Hours
Monday

7:00 am - 6:00 pm

Tuesday

7:00 am - 6:00 pm

Wednesday

7:00 am - 6:00 pm

Thursday

7:00 am - 6:00 pm

Friday

7:00 am - 6:00 pm

Saturday

7:00 am - 4:00 pm

Sunday

Closed