To give is better than to receive. There is no replacing the satisfaction of offering a helping hand to your neighbors, your friends, or local charities. Donating money, goods, or simply your time to a cause that supports those in need is rewarding in its own right. But what if you could give with the chance of getting something back? Something more than the uplifting feeling you receive when you help someone in need? Toyota is partnering up with the Arizona Humane Society to do just that.
2019 Toyota RAV4 XLE
The RAV4 XLE, valued at $30,000, is a sport utility vehicle that breaks the mold, exceeding expectations in both feature and design. This is a vehicle made for adventure both on and off the street, with less fuel stops. It gets a fantastic 26 miles per gallon in the city and up to 35 miles per gallon on the highway.
Have a trailer to tow? Not to worry. With the RAV4, you can haul up to 1,500 pounds, so you can bring along everything you need for a perfect weekend getaway.
Toyota knows the importance of efficiency. That's why the RAV4 includes the Smart Key System, which allows you to start your car from your smart watch—both Apple and Android compatible!
The sleek, powerful exterior encases a comfortable and functional interior. With its 8-way adjustable driver's seat and heated front seats, you'll be riding in style. The Blind Spot Monitor with Rear Cross-Traffic Alert gives you peace of mind, whether you're driving your kids to school or your furry friend to a day at the park.
The Details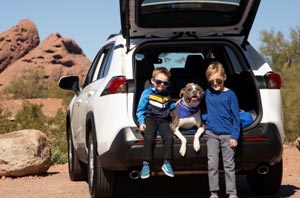 The raffle is available only to Arizona residents who are 18 or older. Those who qualify can purchase one ticket for $20, or three tickets for $50. And the best thing about it? All of the proceeds go to benefit the Arizona Humane Society.
That's 100% of the money raised to help animals in need!
The deadline to purchase is May 31. There is a limited number of tickets available—7,000 total—so hurry in because they are going to go fast! You can watch the drawing on Facebook Live on Wednesday, June 5th at noon. You do not need to be present to win the RAV4 XLE.
Questions about the raffle? Want to see the RAV4 XLE up close and personal? There's several ways you can get your questions answered or see pictures of the RAV4 XLE and the other vehicles we offer.
Get to know us by visiting our website at
https://www.camelbacktoyota.com
. Follow us on Facebook at
https://www.facebook.com/CamelbackToyota.
Or, come see our team in person at Camelback Toyota, located at 1550 E Camelback Road.