Camelback Toyota is enthusiastic to be the leading venue for the Toyota Tacoma in Arizona. Camelback Toyota is a Phoenix Toyota dealership and carries an enormous inventory of New Toyota Tacoma and top quality and high value Used Toyota Tacoma and other cars & trucks.
When buyers compare the Toyota Tacoma to other makes like the Nissan Frontier, Dodge Dakota, Chevrolet Colorado and Ford Ranger, the 2011 Toyota Tacoma shines as the most fun-to-drive. Starting with the 2010 Toyota Tacoma, owners found this affordable Truck 's crisp handling and lively acceleration to be reason enough to choose.
You'll go for the Toyota Tacoma, compact pickup truck, when you shop Camelback Toyota in Phoenix
MotorIntelligence.com has named the Toyota Tacoma the 'Best Selling Compact Pickup' five years in a row, and Tacoma ranks #1 among compact pickups for its rugged design and on and off-road capabilities. It?s no wonder that Nissan Frontier, Dodge Dakota, Chevrolet Colorado and Ford Ranger drivers in Phoenix are switching to the ultra-reliable 2011 Toyota Tacoma.
Since its introduction to the United States in 1995, the Toyota Tacoma has impressed owners with its durability, sleek styling, and amazing interior comfort. This compact pickup truck was initially available in 4 or 6 cylinder engine models, and featured either rear wheel or 4-wheel drive. The early Tacoma also featured an extended cab or regular cab, and the truck fulfilled a variety of towing and hauling needs. In 2001, Toyota introduced a 4-door crew cab model that had a 6-foot bed to accommodate larger workloads. Changes in the body style over the years has given the Tacoma a smooth, modern look, all the while maintaining Tacoma?s original durability and toughness.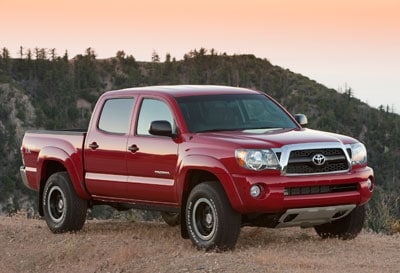 In 2005, Toyota rolled out a larger and more capable Tacoma featuring a powerful 4.0 liter engine with greater horsepower and 6,500 lbs. of towing strength. The responsive Tacoma quickly became a best-selling pickup, and drivers flocked to the Tacoma to enjoy its economical value and versatile capabilities. To find out about great Tacoma deals on a used Toyota Tacoma, stop into Camelback Toyota in Phoenix, and find out what everyone is talking about.
Toyota Tacoma reviews for the new factory year have been outstanding. The 2011 Tacoma has been called an economical, reliable choice by many Phoenix area owners. Tacoma features excellent gas mileage and a variety of body styles and packages for 2011. Call Camelback Toyota for Tacoma incentives, price, and package options today!
The 2011 Tacoma Regular Cab at Camelback Toyota offers 4x2 and 4x4 models with a 2.7 liter DOHC 4-cylinder with Variable Valve Timing and intelligence, and 159 horsepower at 5,200 rpm with 180 lbs. - ft. at 3,800 rpm. The 4x2 and 4x4 come with either a 4-speed automatic or 5-speed manual transmission. With an amazingly affordable MSRP of 16,365, the Tacoma Regular Cab is an exceptional deal.
The smart exterior of the Toyota Tacoma 2011 Regular Cab features a fiber-reinforced sheet-molded composite inner bed with steel outer panels, storage compartments, rail caps, and a removable tailgate on a six-foot bed. The easy to use deck rail system provides 4 adjustable tie-down cleats for easy hauling. Depending on the model, the Tacoma Regular Cab is fitted with 15 or 16?inch styled steel wheels. Finishing the exterior package, the Tacoma at Camelback Toyota features an argent grille insert/surround, black door handles, mirrors, and front and rear bumpers.
Interior highlights of the 2011 Tacoma Regular Cab include air conditioning, a fully carpeted interior, LED illuminated gauges, six-speaker stereo system with CD/MP3 playback, and convenient cup holders.
The Tacoma Access Cab model at Camelback Toyota adds additional engine choices to the 2.7 liter 4-cylinder by adding the 4x2 PreRunner 4.0 liter V6 5-speed automatic, and the 4x2 PreRunner 2.7 liter 4-cylinder 4-speed automatic. The Tacoma Access Cab at Camelback Toyota features powered windows, powered locks, a rear bench seat, cloth upholstery, bucket seats, and a more powerful speaker system.
If a larger cab is what you are looking for, The 2011 Tacoma Double Cab is the truck for you. Featuring a 5-foot bed, the Double Cab has plenty of storage room and hauling space without sacrificing maneuverability or control. The Double Cab at Camelback Toyota contains a 4x2 and 4x4 model options with a variety of engine choices including: a 2.7 liter 4-cylinder 4-speed automatic, a PreRunner 2.7 liter 4-cylinder 4-speed automatic, a PreRunner 4.0 liter V6 5-speed automatic, a PreRunner Longbed 4.0 liter V6 5-speed automatic, and a 4.0 liter V6 6-speed manual.
Interior and exterior options in the Tacoma Double Cab mirror the Regular Cab and the Access Cab but add black overfenders, driver lumbar support, and a front skid plate.
Rounding out the 2011 Toyota Tacoma body types is the sporty X-Runner. This 4x2 4.0 liter V6 6-speed manual offers 236 horsepower at 5,200 rpm and 266 lbs. ft. at 3,800 rpm. That is plenty of towing power for any job, and the X-Runner, like all other 2011 Tacoma body types, makes it easier with Automatic Limited-Slip Differential.
Certain amenities offered with the X-Runner at Camelback Toyota are a 115V/400-watt deck mounted power outlet, fog lamps, a color-keyed hood scoop, color-keyed bumpers, overfenders, grille insert, door handles, power mirrors, and a body kit for the street-savvy drivers of Phoenix.
For years, Toyota has been a leader in safety. All of our 2010 vehicles received four or five stars in front and side impact collisions in government crash tests, and we are dedicated to keeping our strong track record of safety intact for all of our 2011 models as well. The Toyota recall has reaffirmed our commitment to improving R&D activities to produce vehicles that will perform at the highest level of safety and ensure comfortable driving under various conditions. Toyota will continue to deliver the safest and best quality cars, trucks, and SUVs on the road today.
Toyota Tacoma safety is of the upmost importance to Camelback Toyota. That is why every 2011 Toyota Tacoma comes standard with the Star Safety System ? Vehicle Stability Control, Traction Control, ABS, EBD, and Brake Assist. The Tacoma also features Smart Stop Technology, driver and front passenger airbags, seat mounted driver and front passenger side airbags, and front and rear side curtain airbags, so you and your family can count on a safe trip, wherever you go.
The reasons why the Toyota Tacoma has earned the right to be your favorite compact pickup truck in delightful AZ
Camelback Toyota offers the Toyota Tacoma a 2-door Truck which seats 3 people sufficiently. The Tacoma weighs 3,250 pounds, is 190.4 inches long, 72.2 inches wide, 65.8 inches high, and the Toyota Tacoma's turning radius is 18.3 feet. extremely ample for its class, the Tacoma has 40 inches of headroom in the front, and 41.7 inches of legroom up front. In the Tacoma's back seat, there are NA inches of headroom and NA inches of legroom. Need to bring a lot of luggage? The Tacoma trunk holds up to truck bed cubic feet of your belongings. So, spread out and have a good time!
Standard Toyota safety features included in the Tacoma are traction control, anti-lock brakes, side airbags, driver airbags, side-impact bars, seat-belt pre-tensioners, passenger airbags. With all these features, the Toyota Tacoma is always rated highly by the IIHS and NHTSA.
The Tacoma also has a raft of comfort and convenience features, including power steering, remote locks, power windows, power mirrors, climate control, cruise control, air conditioning, power seats, adjustable steering wheel, and more! Especially nice are available hands-free phone and navigation. Test drive the Toyota Tacoma in Phoenix at Camelback Toyota.
Like all Toyota cars & trucks, road handling and performance are top priorities for the Tacoma. Passing horsepower in the base Tacoma is 159 hp @ 5200 rpm, and producing excellent torque 180 lb.ft. @ 3800 rpm foot pounds/rpm, the Tacoma accelerates like a flash from 0 to 60 mph in just 8.8 seconds. If you want to go that fast, the Tacoma has a top speed of 120 miles per hour. Despite this excellent power train output, the Toyota Tacoma's fuel economy is rated at 21 miles per gallon in the city and 25 highway miles per gallon. With a fuel tank capacity of 21.1 gallons, the Tacoma cruising range is well above average. Truly a hardworking truck!
The Toyota manufacturer's warranty covers the Tacoma for manufacturing defects and has these specifications 3 Years / 36,000 miles. Toyota has worked for years to minimize environmental impact, and the Tacoma's carbon footprint is rated very low. Not surprisingly, with all these Tacoma advantages, this great Toyota Truck retains a high percentage of its value at 3 years and 36,000 miles, which makes the Toyota Tacoma a great used buy!
When seeking safe, economical, sporty and stylish Truck , Phoenix buyers should head to the Toyota dealer of choice, Camelback Toyota at 1550 E. Camelback Road in Phoenix AZ.
Toyota Tacoma service information for Phoenix
Toyota Tacoma owners and lessees in Phoenix have found that Camelback Toyota on 1550 E. Camelback Road in Phoenix is the very best choice for Tacoma warranty work, regular maintenance & inspections, and mechanical repairs. At Camelback Toyota, Certified Toyota Technicians, trained in the very latest diagnostic and corrective techniques, work for one thing only : your complete satisfaction. Whether it's time for your Toyota to have an oil change, or tire rotation, or if you need a regular Tacoma Scheduled Maintenance, Camelback Toyota is your first choice. Wheel alignments are another specialty of our Certified Toyota Techs, and, here on 1550 E. Camelback Road, we are the smartest choice in Phoenix, for quick courteous and professional Toyota Service of all kinds.
If you'd like to make an appointment to have your Tacoma serviced, click the link or just give us a call. See you soon.