About Camelback Toyota FJ Cruiser Reviews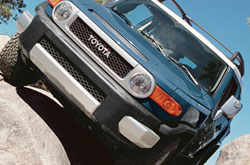 We encourage you to scroll past the YouTube video located below to read a full review of the 2013 Toyota FJ Cruiser. Where do we get these FJ Cruiser reviews? From stellar writers in their industry. Once you begin to read, you'll find that this article is brimming with worthwhile features and information. Is the FJ Cruiser right for you? Find out below!
Watch a Video on the New FJ Cruiser
Overview of the 2013 Toyota FJ Cruiser in Phoenix
2013 Toyota FJ Cruiser Quick Specs
Check out the 2013 Toyota FJ Cruiser side-by-side with versus similar autos like the 2013 Nissan Xterra, Dodge Durango, Chevrolet Tahoe, Ford Edge and the Jeep Wrangler, and you will discover that the 2013 FJ Cruiser trumps those vehicles in many areas. Check out the reasons see why!
2013 Toyota FJ Cruiser MPG: 16 city / 20 highway
2013 Toyota FJ Cruiser Colors: Army Green, Calvary Blue, Magma, etc...
2013 Toyota FJ Cruiser 0-60 MPH in 7.2 seconds
2013 Toyota FJ Cruiser Seats: 5 passengers
2013 Toyota FJ Cruiser Cargo Space: 27.9 cubic feet
2013 Toyota FJ Cruiser Body Style(s): Midsize SUV
2013 Toyota FJ Cruiser MSRP: $26,880
Toyota FJ Cruiser Notable Amenities, Accessories & More
New 2013 FJ Cruiser Engine & Powertrain Specs
Your Toyota FJ Cruiser Comes With Built In Peace of Mind
Maintaining Your Investment - We're Here to Help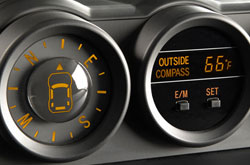 Feel the [resassurance] that comes along with attaining tried-and-true repairs by Toyota trained technicians, a 12-month long warranty on all repairs, and authentic Toyota parts. At our Phoenix area repair center, this and more is available for Toyota FJ Cruiser drivers. Camelback Toyota's auto repair men will make your FJ Cruiser run strong, so bring it to our Toyota car maintenance division in Phoenix today. We will undertake a task as simplistic as an oil change, or complete involved auto repairs and service like timing belt replacements, strut and shock repairs and Toyota transmission rebuilds. Camelback Toyota is your best choice in Phoenix for quality, professional Toyota repairs and routine maintenance. You can scope out coupons daily at the following link.