What's New For the 2022 Toyota GR 86?
The Toyota GR 86, a sporty coupe, is back with some updates for the 2022 model year. The latest GR 86 mostly has modifications to its performance and handling features this year. It is equipped with a flat-four gasoline engine that has a 2.4L displacement. Powered by this engine, the Toyota achieves a top power output of 228 HP and 184 LB-FT in torque. There are two trim levels available in the 2022 version of the GR 86.
2022 GR 86 Trims & Features
For the 2022 model year, you can choose between two trim levels of the GR 86. The first trim, which is called the base model, has 17-inch wheels and high-performance tires from Michelin. If you get the Premium trim level, which is second in line, you'll get larger 18-inch wheels also made by Michelin. There are seven exterior paint colors for either trim level. The Toyota's standard infotainment and technology features include a digital gauge cluster with a seven-inch screen and a larger separate eight-inch touchscreen interface with Android Auto and Apple CarPlay. The Toyota also has a surprising amount of storage space in the back, and it gets even more when you fold down the back seats.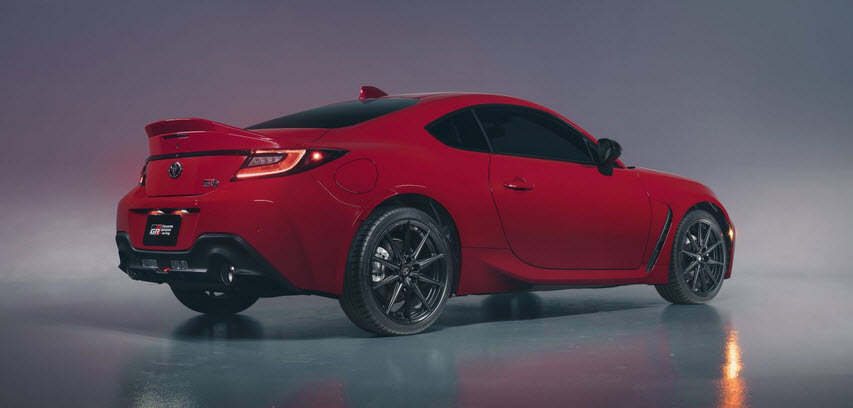 2022 Toyota GR 86 Horsepower
The 2022 Toyota GR 86 uses the same engine for both trim levels. The GR 86 is driven by a 2.4L engine with four cylinders. With this engine, which is new in 2022, Toyota increases its power output to 228 HP, which is about 20 HP more than it achieved with its previously standard engine. Torque increases with the 2022 model's engine to a total output of 184 LB-FT. Before, the GR 86 was capable of delivering 156 LB-FT in torque. The Toyota comes standard with a six-speed manual transmission, but you can also choose to get an automatic transmission instead that also has six speeds. Either way, the Toyota has the same fast acceleration capabilities of reaching 60 MPH from a standstill in about 6.1 seconds, which is slightly faster than its acceleration rate with the previous engine.
Toyota GR 86 Safety
The 2022 Toyota GR 86 will come with a variety of standard advanced safety aids. Its standard features including adaptive cruise control, lane departure warning, and automatic emergency braking. High-beam assist is another external safety aid.
Visit Us in Phoenix Today
Contact us today to learn more about the 2022 Toyota GR 86.